Post By: COYD Staff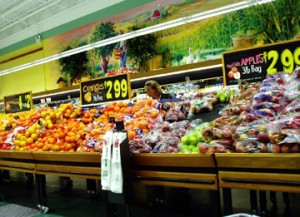 Have you ever been in a grocery store checkout line and seen the person in front of you whip out a bundle of coupons and see their $80 grocery bill morph into a $40 grocery bill? What if you could do that with college costs? Today, we are going to learn a few strategies from a coupon clipper that will help us clip some of the college costs away.
Shopping Tip #1: Have a general idea of what you need to buy before going to the store.
If you know what you are going to cook for the upcoming week, then you will buy only what you need. Most foods are perishable, so if you just buy whatever you feel like buying, you'll probably see a lot of unused food and ingredients in the back of your fridge growing mold in 2 weeks. The best way to save money is to buy only what you will use.
College: If you efficiently utilize every minute of college, you will definitely graduate on time or even graduate early. Graduating early is probably the best way to cut college costs. Instead of 4 years of tuition, you only pay 3 years. If you know what you want to accomplish in college, then you will be able to most efficiently utilize every class, activity, decision you make. That doesn't mean you have to know your exact profession and major coming in to your freshmen year. Some of you won't know, but that means you should use your freshmen year to explore and discover. Talk to the professors, talk to upperclassmen and learn as much as you can so you can figure out what you want to accomplish in college and develop a plan for the rest of college. Many students waste a lot of money because they have to take another semester or year to graduate. If you want to cut costs, plan ahead, be efficient, and graduate on time or early.
Below are specific things you can do as a high school student to graduate early:
– Place out of as many classes as you can through AP credits: Not all universities will allow you to use your AP credits, but many will. Though many top tier schools won't let you place out of classes, they might let you start at a higher level (Spanish 3 instead of Spanish 1).
– CLEP exams: These also don't apply to all schools; however, check to see if your school accepts these credits.
Shopping Tip #2: Collect and organize your coupons
Collect coupons in a coupon pouch organized by type of food. That way when you want to use it, you can find it and remember to use it.
College: Start collecting and organizing your scholarship, grant, and financial aid award opportunities so that when senior year arrives, you will be ready to capitalize on every opportunity. Often, students start applying to scholarships too late and the deadline for many opportunities has already passed. In order to avoid this, start your research early and organize them in a folder on your computer or in a file cabinet.
Shopping Tip #3: Compare coupon ads
It may save money to drive to more than one store if it's an item you need, you have a coupon, and it's not available anywhere else. But, before you burn up extra gas, ask if the store honors its competitor's coupons. Many do!
College: Pay in state tuition rates for an out of state university. Academic Common Market is a tuition-savings program for college students who want to pursue degrees that are not offered by their in-state institution. Students can enroll in out-of-state institutions that offer their degree program and pay the institution's in-state tuition rates. States that participate in the ACM are Alabama, Arkansas, Delaware, Georgia, Kentucky, Louisiana, Maryland, Mississippi, Oklahoma, South Carolina, Tennessee, Virginia and West Virginia.
Shopping Tip #4: Employee discount!
For most stores, employees can get a store discount as much as 75%.
College: Universities have a similar program called work-study. Universities hire students to work on campus to help discount their tuition. It's quite nice because usually these college on-campus jobs are low stress and actually give you time to study on the job.